Our Tradition Of Best Nursing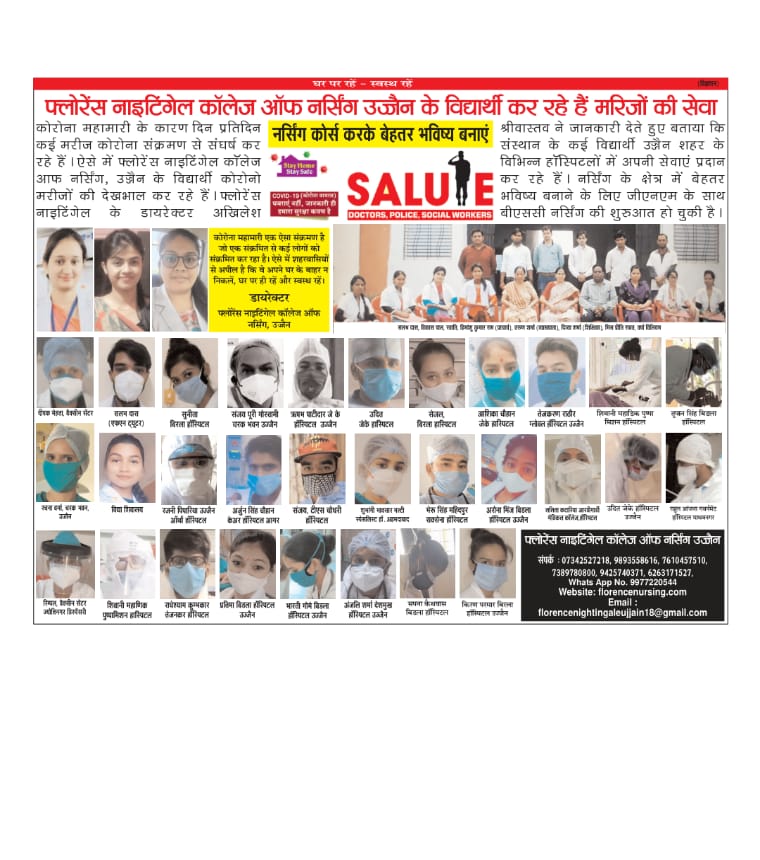 Best health care service in Ujjain
This School "Florence Nightingale School of Nursing " B/4, Anand Nagar, Nanakheda, Ujjain (M.P.) instituted at the time when there is an actual need to have quality in Nursing Education and improvement in Health Care System in the state of M.P. The School has its own building. This institute provide insight and knowledge to improve students personality. We providing the conceptual knowledge through highly qualified and experienced staff, rich and updated library and practical knowledge in well equipped and furnished laboratories
Florence Nightangle School Of Nursing is run by the management of Saraswati Shakti Peeth Siksha Samiti (Regd) situated at 59, Vivek Nagar, Behind Mela Ground, Thatipur, Gwalior (M.P) and the society is 2 km away from Railway Station & Bus Station.
In the era of stiff competition, success can only be achieved if one make the right kind of endeavour at the right time and in the right direction. Florence Nightangle School of Nursing have been established with a view to produce qualified, and efficient nurses for a new tomorrow in the ever changing competitive world of today.
This School is spread over an area in acre having modern infrastructure & well-furnished School and Hostel building. This premier institute had taken its 1st GNM batch in 2012 and the process of getting other courses is going on. It is the quality of people in terms of right attitude, aptitude & skills that gives any organization a competition edge, recognizing the need of society, training of nursing student is a crucial & urgent priority. Florence Nightangle School of Nursing takes this responsibility seriously & recruit qualified teachers to make them outstanding nurses & provide best clinical facility in Established Private & Government hospitals.
Florence Nightangle School Of Nursing has a very purposeful plan to run the institute on latest modern lines, so that the students passing out of this institute would be able to exhibit their best skills & set the new trends in Nursing Profession.
I hope the students who step into this institution would use the facilities available and attain their goals.
"If education can give us two things- a right view of the life and right mental habits, it will give us the latest weapon which we need for our voyage through our world." Society by way of education helps students to establish new goals, develop a new sense of purpose and generate new ideas about their future. The student centered approach of our institutes creates an environment that moulds the students to navigate with ease in the fiercely competitive world. An exposure to diverse cultural and educational aspects is provided for the all-round development. Adequate care for the society and the nation at large. The syllabus and curriculum through contemporary in our institutes, it also enforces distinct insight into a wholesome personality of the student. Along with zeal and experience, our faculty trains and guides students towards excellence, in a healthy environment. As a student every child will transform his life and expand his potential with all the knowledge.
It is my distinct pleasure to serve "Florence Nightangle College Of Nursing" as a Principal. The institute is just six years old and is growing well day by day.
Our Primary concern is to prepare human beings who can meet the challenges of tomorrow with creativity, a critical spirit, intelligence and competence, conscience and responsibility.
The Institute is known for quality education and rich clinical experience. As it is said that the teachers are like Candles, which consume themselves to brighten the lives of students" Our Hall Mark is Quality in every aspect of our functioning." We have experienced and hard working faculty who leaves no stones unturned for providing best education to the students. They use various teaching methods like demonstration, group discussion, seminars, panel discussion, role plays, quiz and exhibitions & also encourage students to participate in extracurricular activities. No efforts are spared in achieving our goals and aspirations. We are confident to excel in our endeavour with determination & commitment of our faculty and the wisdom of our Management.
I am sure the new entrants will find the environment at this institute, very conducive for learning. We resolve to make learning a stress free and joyful experience come and join Florence Nightangle College of Nursing. We assure our students and their parents that our teachers are determined to provide students the highest standards of Nursing Education.